One Stanley Avenue Restaurant
Mailing Address
1 Stanley Ave
Kingfield, ME 04947
Contact Information
Location
One Stanley Avenue Restaurant and Three Stanley Avenue Bed & Breakfast are located in Kingfield, Maine, a quaint Victorian village at the gateway to the western mountains. Within a 45 minute drive, one can view numerous mountains including six peaks over 4,000 feet. Sugarloaf Ski Area is a short drive up the valley.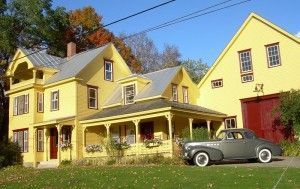 Three Stanley Avenue Bed & Breakfast, located in a quiet neighborhood just a short walk from downtown Kingfield, was built around 1900 by Bayard Stanley, youngest brother of the famous Stanley Steamer twins. Right next door, connected by spacious lawns, is the One Stanley Avenue Restaurant.
The building houses six rooms; three with private baths and three that share two baths. Guests enjoy the feeling of "coming home." The rooms are cozy and comfortable and are decorated in a Victorian motif. Guests are welcome to stroll our lovely lawns, walk in our manicured woods, or relax in our restored c. 1900 gazebo, formerly the town's band stand.
Please call (207) 265-5541 for reservations. Open seasonally, mid-December through mid-April. The restaurant is available for your special occasions in the spring, summer and fall.
View One Stanley Avenue's menu, the "Classic Cuisine of Maine."
"My cooking career began as a woods cook in a boys summer camp. I maintained a steady, even heat source in the fires I built by selecting appropriate wood. This primitive foundation in cooking combined with an understanding of Northern Maine and all its natural goodness, has helped develop my appreciation for indigenous Maine dishes, flavorings and spicings, through which I have created a truly regional cuisine.
In developing the classic cuisine of Maine, I first had to define what Maine food was and then make it classic. Except for lobster, potatoes and blueberries, nothing else came to mind that was commonly associated with the state of Maine. I soon came to realize that what I really was looking for were things that could be found throughout New England, but which I identified as belonging here, such as fiddlehead ferns which grow in early Spring along our river banks, juniper berries which are found in our pastures and woods and rhubarb which is commonly found on the grounds of every old homestead. I began using these essences of Maine, and combined them with all the classic steps and processes to create a style that is truly unique. This menu represents that attitude. It is my statement and I hope you enjoy it." – Dan Davis